Info
Bordeaux town hall set ablaze as French pension reform unrest grows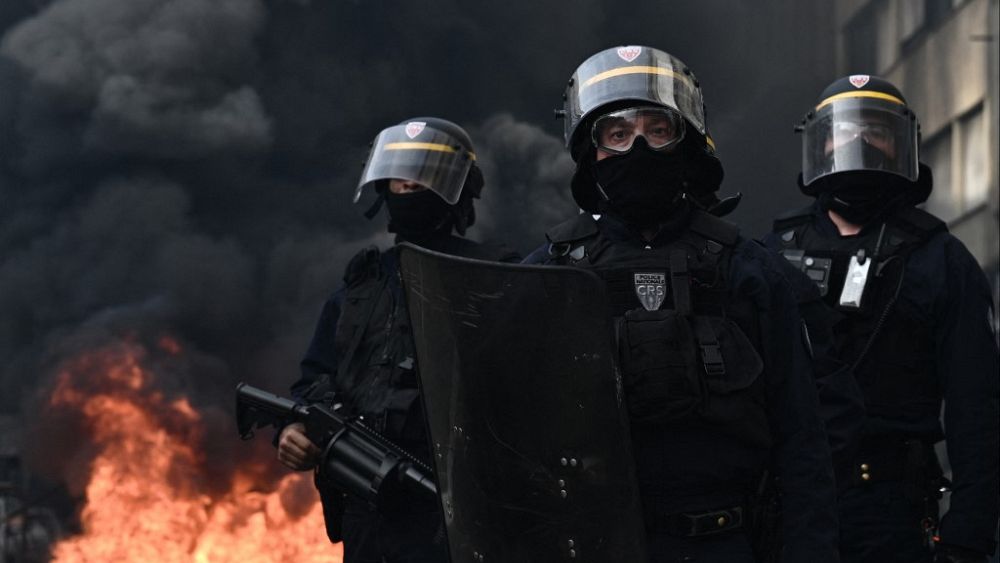 Unrest over pension reform in France grew on Thursday, with Bordeaux town hall set ablaze.
Now in their ninth day, more than a million protesters took to the streets across France, amid renewed violence and tension. 
The porch of the Bordeaux town hall, where King Charles III is set to be received on Tuesday, was set on fire on Thursday evening. It was not clear who is behind the blaze, which firefighters quickly extinguished. 
The source of unrest is French President Emmanuel Macron's attempt to increase the retirement age from 62 to 64. 
He claims the reform is necessary to make the system economically viable, with increasing numbers of pensioners putting a burden on the state. 
However, the reform is deeply unpopular and Macron's use of special powers to force the legislation through parliament has been sharply criticised as anti-democratic and authoritarian. 
Polls suggest up to 70% of the French reject the plan. 
Unions are up in arms about the reform with one in six civil servants on strike yesterday, while tons of rubbish is piling up on the streets amid industrial action by refuse collectors. 
Between 1 and 3.5 million people are believed to have marched in 300 cities yesterday, with police making some 80 arrests. 
Violent clashes between riot officers and protesters have punctuated several protests in recent days, with Prime Minister Elisabeth Borne deeming the "violence and degradation" "unacceptable". 
The police, in turn, has been accused of using excessive force. Footage circulating online purports to show a group of riot police pointing a firearm at the press covering one protest.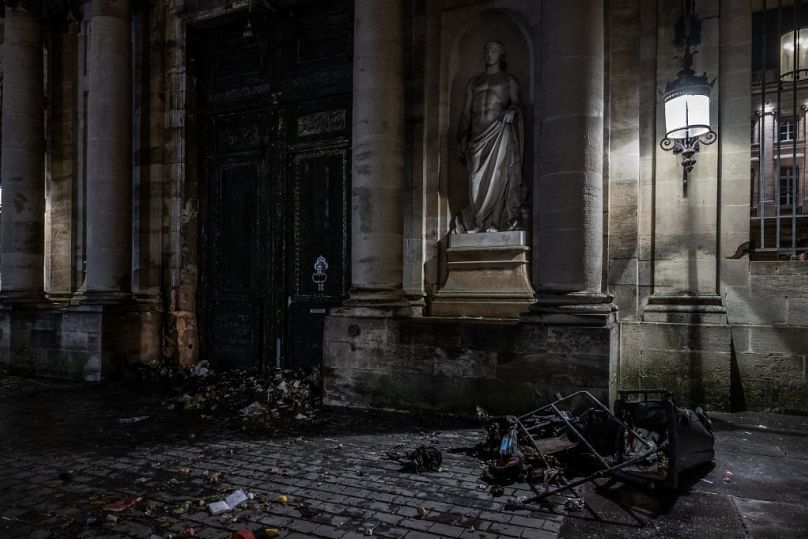 The fire in Bordeaux lasted for around fifteen minutes and damaged the massive wooden door of the building, before being extinguished by the firefighters, according to Pierre Hurmic, mayor of Bordeaux.
"It's the house of Bordeaux, I don't really see the symbol behind it," he said, adding he was "very shocked". 
Investigations are in progress. 
Unions have called for further protests next Tuesday, which would coincide with King Charles III's state visit to the country. He is scheduled to visit the southwest city of Bordeaux that day.
For the first time since the start of the protest, tear gas by the police against groups of masked young people throwing projectiles and setting fires at barricades in Bordeaux, with Thursday's demonstration bringing together between 18,000 and 110,000 people.
In total, seven people were arrested in Bordeaux for throwing projectiles, arson and contempt, according to the authorities. 
Violent clashes were reported in Nantes and Rennes, where water canons were used, plus a police station in Lorient was targeted.
Lille and Dijon were also reportedly tense. 
In Brest, Aurélia Vaillant, a 44-year-old restaurateur, told AFP she "will go all the way".
"There is too much at stake to stop now", she said, adding that Macron was "despised" for using constitutional powers to force the legislation through without a parliamentary vote.
On Wednesday, Macron remained resolute, maintaining his reform was "necessary" while describing the perpetrators of violence as "factious".